Description
Product Highlights
Joystick with built-in USB charger is removable for transport
Airline-compliant lithium battery*
Front suspension for a smooth ride
Ultra-lightweight, carbon fiber frame specifically designed for traveling
The compact base easily folds and unfolds for easy transport in a few easy steps
Padded seat back with storage pocket and soft, removable seat cushion for all-day comfort
Freewheel levers quickly disengage the brake, allowing this lightweight power chair to be pushed like a manual chair
Under-seat storage and adjustable lap belt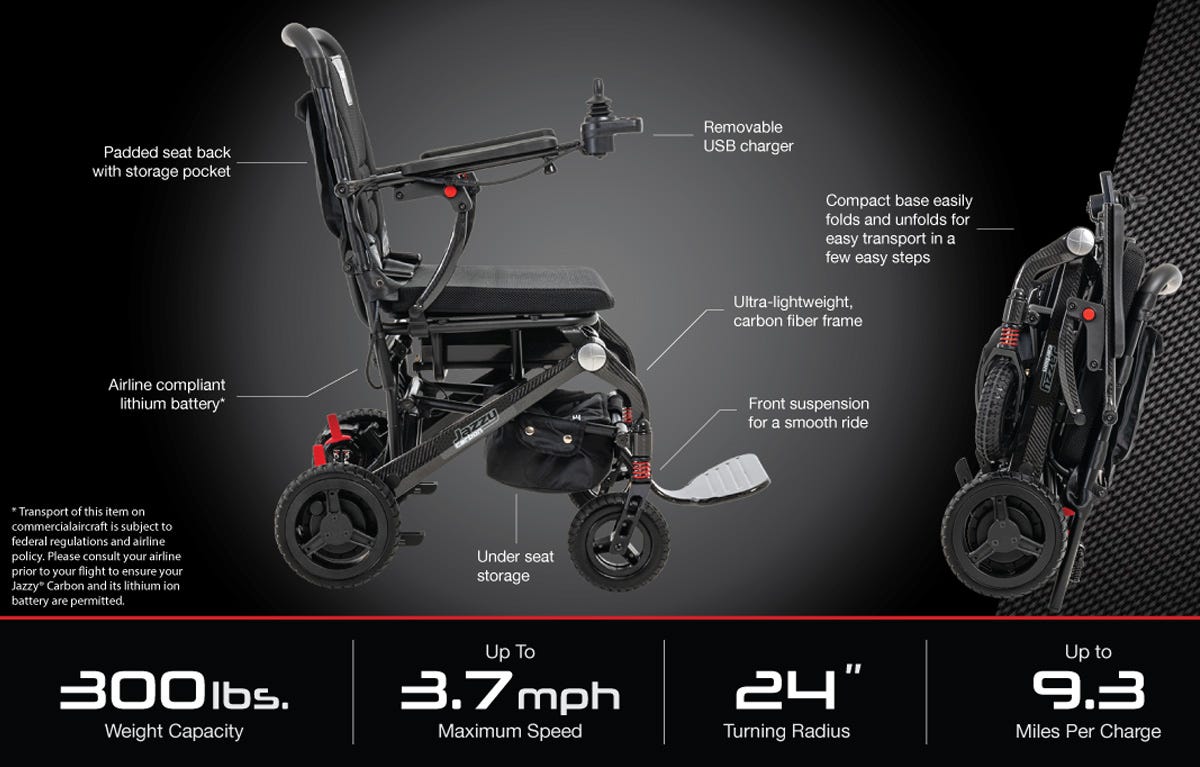 The Jazzy Carbon Travel Light Power Chair is designed for comfortable travel on planes, trains, cars, and wherever you go.

Despite its ultralight carbon fiber frame, this chair packs quite a punch. You can travel 9.3 miles up to 3.7 mph on a single charge. Amazingly, it weighs just 43.6 pounds and folds easily for safe storage in a flight compartment or the back seat of a taxi.

Are you still trying to figure out what to expect at your travel destination? No problem. The electric wheelchair's front suspension ensures a smooth ride on any terrain. If you want to save the cargo, you can release the brake with the freewheel lever and push the chair manually.

Developed with travel comfort in mind
It's all about the journey:
It covers all your travel needs, making moving between terminals and flights easy.

Powered by an airline-compliant lithium-ion battery, it taxis you through security to your gate in style. Use the spacious under-seat storage or rear pockets to store all your travel essentials.

The detachable joystick has an integrated USB charging port for connecting your smartphone or tablet—no need to hunt for open sockets in the terminal. Move comfortably with the padded backrest and removable soft pillows.